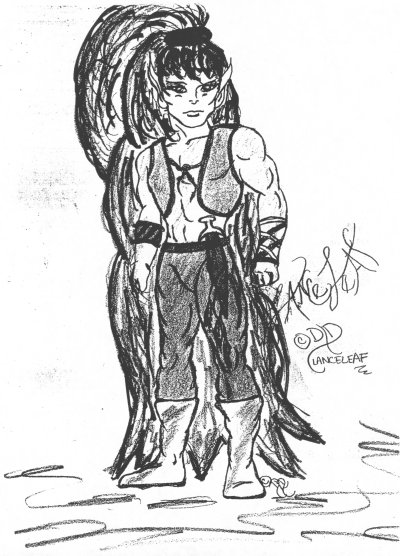 NAME: Lanceleaf
RACE: elf
GENDER: male
PURE\ANIMAL BLOODED (IF ANIMAL, SPECIFY WHICH): wolf blooded
SOUL NAME: Xaze
KNOWN BY: himself, Silvergreen (sister)
LIFE\LOVEMTE (SPECIFY WHICH): none
CUB(S): none
AGE: 166
HEIGHT:
4í
HAIR: midnight black, ankle length, flowing, slightly shaggy, topknot
EYES:
emerald green, wide, slanted
SKIN TONE: medium tan
BODY TYPE: very muscular
MARKS\SCARS\OUTSTANDING FEATURES: jagged scar on chest - war wound
from battle with humans
CLOTHING: black leather pants, vest, and calf boots
JEWELRY: black leather straps around left forearm and wrist, black leather forearm band on
right
WEAPONS: poisons darts, short, deadly broadsword
SPECIAL POSSESSIONS: none
ABILITIES: sending, animal bonding, magic feeling
SKILLS: hunting, stealth, climbing, swimming, dancing, fighting
FAMILY: Silvergreen (sister)
ORIGIN: Shadowrain Keepers of Dark Haven
PERSONAL HISTORY AND INFORMATION: Lanceleaf is a wicked warrior and hunter.
He is also a very loving elf, but it takes a lot to get his heart. He is very quiet and broods a lot, although
he always has a smile for everyone. Something hurt him long ago, and apparently, he canít let it go. He
longs for that one love of his life, but outwardly, no one would ever know it. He provides plenty of meat
for the Holt, and often risks his own life to acquire metals and treasures from trolls and humans for the
Holt. He was raised by his sister after his parents were killed in a war with humans at Dark Haven, although
he doesnít talk about his history.
COLORS\SYMBOLS: none
KNOWLEDGE\OPINION OF:
HUMANS: skuzz! Killing is too good for them!
TROLLS: no opinion
PRESERVERS: pesky but okay
OTHER ELVES: gets along with most
BOND BEAST: wolf
NAME: Deathdancer
GENDER: female
COLOR: black
She can be vicious if needed
ANIMAL FRIEND\RIDE (SPECIFY WHICH IF APPLICABLE): eagle
NAME: Rip
GENDER: male
COLOR:
standard bald