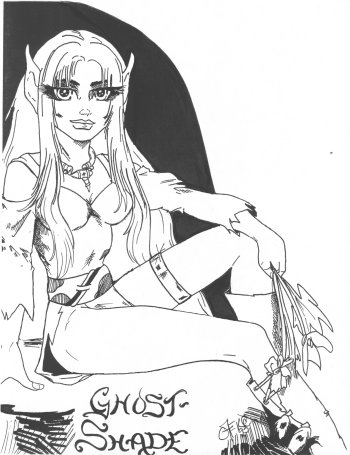 NAME: Ghostshade
RACE: elf
GENDER: female
PURE\ANIMAL BLOODED (IF ANIMAL, SPECIFY WHICH): wolf blooded
SOUL NAME: Dyns
KNOWN BY: herself Woodspirit (soul sister)
LIFE\LOVEMATE (SPECIFY WHICH): Flamesnap, Silvertooth (lovemates),
various others
CUB(S): none
AGE: 440
HEIGHT: 3'8"
HAIR: pale frosted honey blonde, ankle length, fringed wipsy bangs framing face, thick,
silky
EYES: very deep blue-violet with grey flecks and dark plum pupils, wide, slanted
SKIN TONE: alabaster white
BODY TYPE: slender
MARKS\SCARS\OUTSTANDING FEATURES: oval face, soft soprano voice, long
dark brown lashes
CLOTHING: various leather outfits, usually dark blue tunic and half boots with dark
purple belt
JEWELRY: silver neckband with sapphires and talon, silver thighband, silver and sapphire
bangle
WEAPONS: bow with blue fletched arrows, daggers, quarterstaff
SPECIAL POSSESSIONS: quarterstaff, given to her by her brother
ABILITIES: strong sending, animal bonding, magic feeling, boneshaping
SKILLS: herbal healer extraodinare, excellent poison/herbal lore, hunting, tracking,
weaving, tanning, swimming, fishing, herbal gardening, singing, listening, seamstress,
beadwork
FAMILY: parents and brother wandering
ORIGIN: wanderer
PERSONAL HISTORY AND INFORMATION: Ghostshade is reserved and quiet at times,
then she can be quite the opposite. She's not shy around new faces, just taken back that there are
other elves, let alone wolf blooded elves. Avoids the sun at all costs and is seen primarily at night
either by herself or in the company of Woodspirit. Doesn't talk a lot unless she's in the mood and
refuses to talk about her past. If one asks about her past, it only angers her. Since coming to Grand
Illusions, she has found intense friendship with Woodspirit, who has been showing her how things
are done in the Holt. Ghostshade likes to hunt small game (fish or fowl) and eat edible plants/berries/fruit
than eating lots of raw meat. Her joy in life is herb gathering and collecting, which Woodspirit helps her with.
COLORS\SYMBOLS: none
KNOWLEDGE\OPINION OF:
HUMANS: heard of them, smelled them, can more or less enjoy life without them
TROLLS: heard of them, never actually seen one
PRESERVERS: ??????????????
OTHER ELVES: didn't know there were other elves, other than her tribe, until she
came to Grand Illusions. Naďve that anything can be so different than the
life she knew
BOND BEAST: wolf
NAME: Keenscent
GENDER: male
COLOR: dark grey
ANIMAL FRIEND\RIDE (SPECIFY WHICH IF APPLICABLE): friend, otter
NAME: Whiskers
GENDER: male
COLOR:
sable