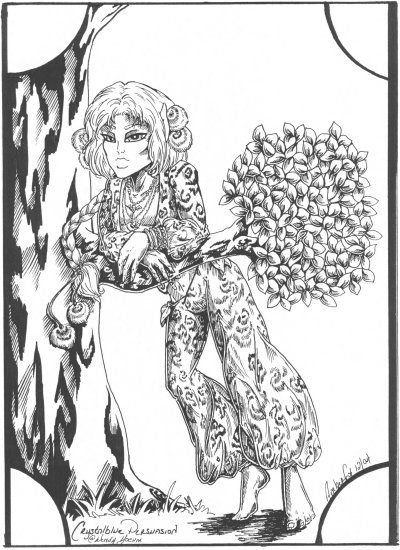 NAME: Crystalblue Persuasion
RACE: elf
GENDER: male
PURE\ANIMAL BLOODED (IF ANIMAL, SPECIFY WHICH): wolf blooded
SOUL NAME: Lashi
KNOWN BY: himself
LIFE\LOVEMATE (SPECIFY WHICH): available!
CUB(S): none
AGE: 100
HEIGHT: 4'8"
HAIR: blue-white with gold streaks, chin length with bangs, thin waist length braid in back
(sometimes wears loose), pageboy style, weaves peacock feathers in
EYES: medium blue, wide, slanted
SKIN TONE: dark tan
BODY TYPE: muscular
MARKS\SCARS\OUTSTANDING FEATURES: very attractive, trying to grow out the rest of
his hair
CLOTHING: blue-gold tie-dyed flowing pants and shirt tied at waist (gypsy style)
JEWELRY: gold bracelets on both wrists, gold necklace with various crystal pendants of bats
and peacocks
WEAPONS: scimitar, bow, small dagger
SPECIAL POSSESSIONS: violin type instrument, given to him when he reached adulthood
ABILITIES: sending, animal bonding, mindstun
SKILLS: plays various musical instruments, very persuasive in love and trade, seduction,
lovemaking, fighting
FAMILY: Moonbeams (mother), Mandalasong (father)
ORIGIN: Night of a Thousand Eyes Holt
PERSONAL HISTORY AND INFORMATION: Comes from a gypsy like holt, very carefree
and prefers to roam. Can fight, but would rather play with the females! Close to his family and
glad when they joined him in Holt of Grand Illusions.
COLORS\SYMBOLS: blue and gold\peacock and bat
KNOWLEDGE\OPINION OF:
HUMANS: has met some he likes, even has a human family as friends
TROLLS: sooner kick that trust! At war with them!
PRESERVERS: not so bad. He has two
OTHER ELVES: definitely loves, especially the females!
BOND BEAST: wolf
NAME: Midnight Dance
GENDER: female
COLOR: black
ANIMAL FRIEND\RIDE (SPECIFY WHICH IF APPLICABLE): friend, wolf
NAME:
Eyefire

GENDER: male

COLOR: albino