History|Life|Customs|Inhabitants|Writer's Guide|Artist's Guide|Other policies|Home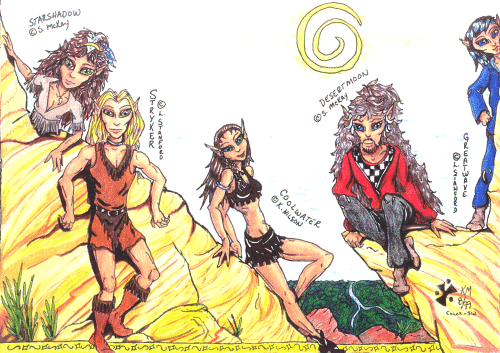 ARTIST CREDITS:
Yeah, I know. Generic stuff, right? Well, some may not know, so bear with me. Artists are targeted from day one. If it's submitted, it will be printed. If the material involves other's character(s), it is best to ask approval as with writing stories. Many members are delighted that someone has illoed their character(s), and often give free approval. This means that they do not need to see the illo prior to publication. There are other members who let me be the judge for them. If you wish to draw other's characters and are not sure if they will approve, contact me.
If you're willing and would like to illo stories or character references, please let me know! I will send you whatever you will need. We always are in need of illustrated material - especially story illos.
Format for our newsletter PIECES OF EIGHT is 8 1/2" by 11" (standard size of paper) which will allow artwork to remain the size that they were drawn. After all, when artwork is reduced, it has a nasty habit of destroying those fine delicate detail lines that artists have spent hours doing. I do not intend to reduce or enlarge anyone's art unless it is the only way I can place it in the newsletter. If I find I must, I will inform you prior to publication for approval.
Borders are nifty to have, but do not feel that you absolutely must do them. I realize that most of you have worked very hard on the illo itself to incorporate a border and some may not feel comfortable doing a border. Either way, I can print the illo as is or find a suitable border here from various sources. Also, filler art is always needed. This includes anything about a half a page or smaller. If you can do fancy borders but aren't comfortable doing anything else, send those in! Submissions do not need to be elves; it can be decorative filler art, animals, humans, trolls, landscapes, preservers, whatever you feel most comfortable doing.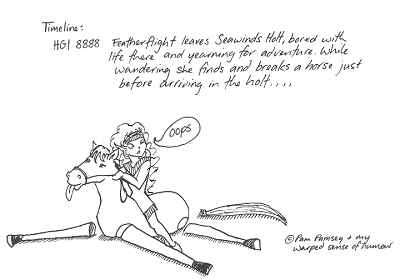 For story illustrations, the more the merrier! Actually, I ask that you at least do a title page, but I would prefer an illo per every other or every third page. If you volunteer for illoing stories, I promise to give you at the very least two months notice for a story over three pages. Often deadlines are extended, and if that is the case, I will let you know to give you more time. If you feel you cannot make the deadline, let me know as soon as possible so I may either reassign the story or extend the deadline to a more comfortable date.
If you cannot submit any material or cannot reliably contribute for a while, let me know in advance. This will prevent me from sending material you simply cannot illo. When you can get back into submitting, write me and I will start sending requests. I like variety in the newsletter and prefer to have as many artists submit as possible.
As with written material, I will accept R rated submissions provided they are done in good taste. No X rated material please. If in doubt, send me a copy and I will let you know. I accept art either in black and white or full color. Full color illos tend to become covers, however, unless you specify otherwise.
Lastly, I can also accept art over the internet. My printer can manage.